AWS Cloudwatch
AWS CloudWatch Integration¶
Navigate to Settings->Integrations. Choose "AWS CloudWatch" services and click the Integrate Now button.
Integration of Amazon CloudWatch:¶
a. Prerequisites¶
AWS Access Key / AWS Secret Key is required for this Integration.

[Note]: Please refer this link to create access keys link
b. Steps to Integrate:¶
Go to Channel Integration URL
Click the Integrate Now button -> AWS CloudWatch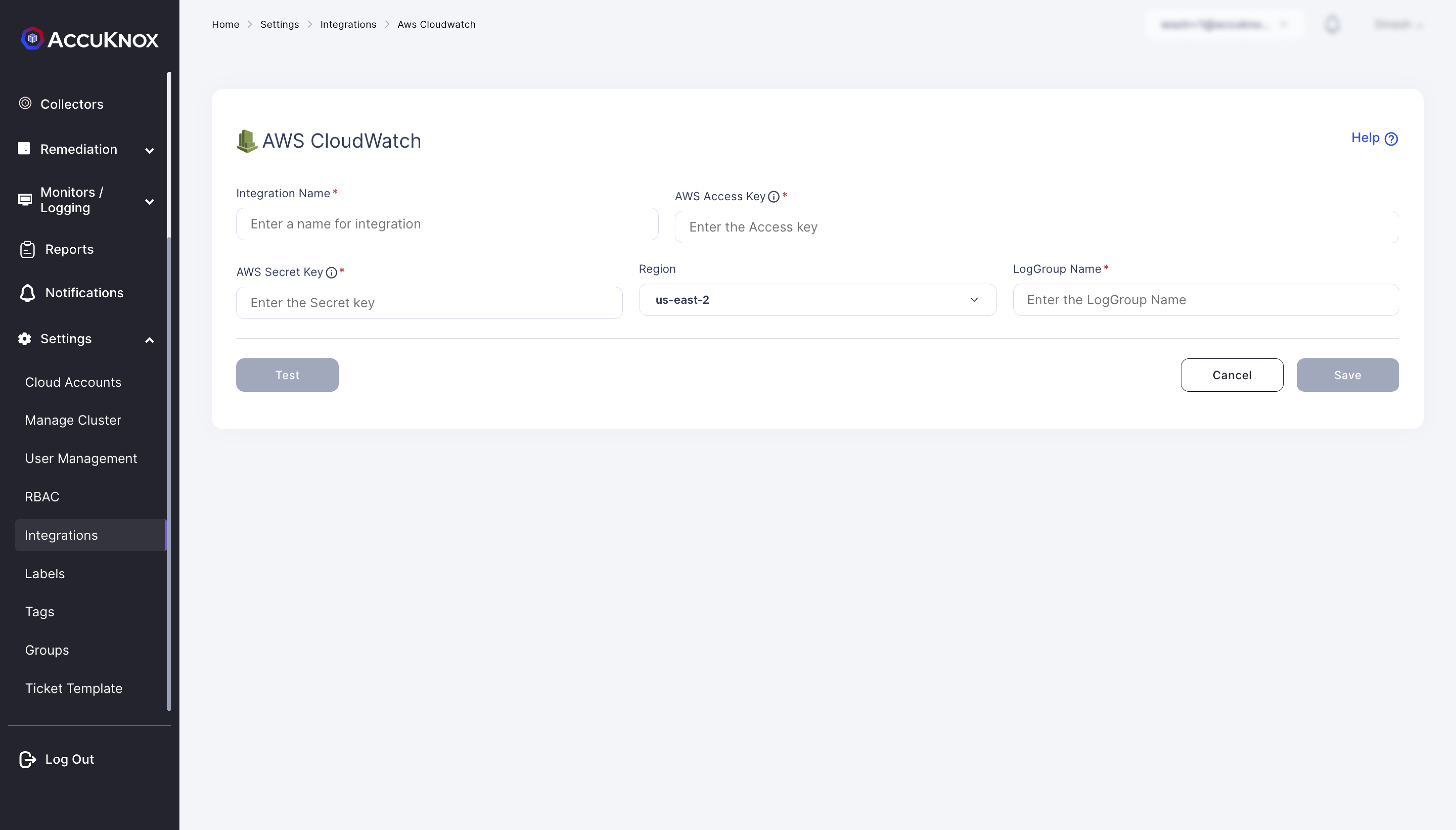 Here you'll be able to see these entries:

Integration Name: Enter the name for the integration. You can set any name.
AWS Access Key: Enter your AWS Access Key here.
AWS Secret Key: Enter your AWS Secret Key here.
Region Name: Enter your AWS Region Name here.

Once you fill every field then click the button this will test whether your integration is working or not.
Click the Save button.
2. Configuration of Alert Triggers:¶
On the Logs page, after choosing specific log filter click on 'Create Trigger' button.
The below fields needs to be entered with appropriate data:
Name: Enter the name for the trigger. You can set any name without special characters.
When to Initiate: The frequency of the trigger as Real Time / .
Status: Enter the severity for the trigger.
Search Filter Data : The filter log chosen in automatically populated here.This is optional.
Predefined queries: The list of predefined queries for this workspace is shown as default.
Notification Channel: Select the integration channel that needs to receive logs. This should be AWS CloudWatch. (Note: Channel Integration is done on the previous step)
Save: Click on Save for the trigger to get stored in database.
3. Logs Forwarding:¶
For each Enabled Trigger, please check the AWS platform to view the logs.
Based on Frequency (Real Time / Once in a Day / Week)
The Rule Engine matches the real time logs against the triggers created.